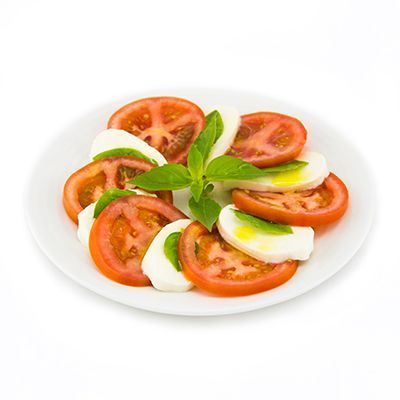 The caprese salad is a delicious and very healthy salad with simple ingredients: tomato, mozzarella and fresh basil. Watered with Valdezarza Arbequina extra virgin olive oil. It is a typical Neapolitan dish originally from the island of Capri offered normally as an entree. It is an ideal dish for hot days and perfect before a copious meal. If you are a fan of healthy and Mediterranean food, this salad will be one of your favorite delicacies.
Ingredients
110gr of tomato.
50gr of mozzarella cheese.
8 fresh basil leaves.
Valdezarza extra virgin olive oil.
Preparation
1. Cut both tomato and mozzarella.
2. Chop the basil too.
3. Put in a bowl olive oil with balsamic vinegar and salt, and emulsify it by turning.
4. Put in a plate the tomato, mozzarella, basil and anchovies.
5. Sauce with the vinaigrette and season to taste.
Our caprese salad is ready to eat!
We love making recipes for you. at Valdezarza. Follow us on our social media to receive them as we publish them.